We are introducing yet another Style to Watch for 2022: Patterns on Patterns. When we talk about patterns as a trending design style, we certainly don't mean gaudy designs or flecked movie theater carpets. In fact, this year's trending patterns lean more towards inconspicuous, but that's not to say they don't elevate your space. Offering fun textures that are visually appealing, patterns tend to add dimension and create a distinct warmth when used in your home design.
Of course, if you're looking to hop on the maximalist trend, feel free to go bold with loud patterns and layered prints. With so much variation, you can easily include patterns that match your style within your home design. To help you dip your toes into the pool of pattern possibilities, we've compiled some of our favorite patterned flooring products and solutions that will work wonders for adding visual dimension to your space.
Subtle & Sleek Carpet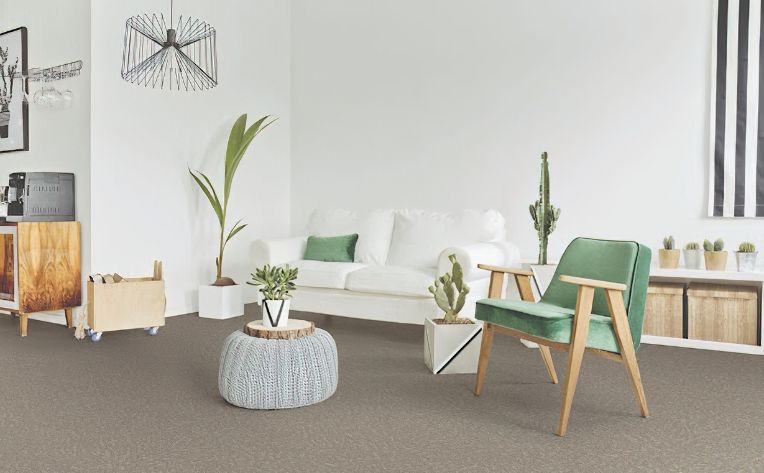 Define Yourself carpet by Design Distinctions in Sugar Sand
One of the easiest ways to incorporate patterns into your home design is utilizing a subtle patterned carpet, such as this Define Yourself carpet from Design Distinctions. When viewing the carpet close up, you'll see the elegant swirls and dual tones creating a stunning pattern, but from far away you'll notice the pattern become less apparent – creating visual interest without overwhelming your space. Since it's such a subtle base, it's perfect for layering other patterns in your space without your design coming across as too busy. And while the Define Yourself carpet is aesthetically perfect for this trending style, it is also a durable, smart choice for busy households, as it is soil and stain resistant and comes in 9 easy-to-coordinate hues.
Bold Mosaic Tile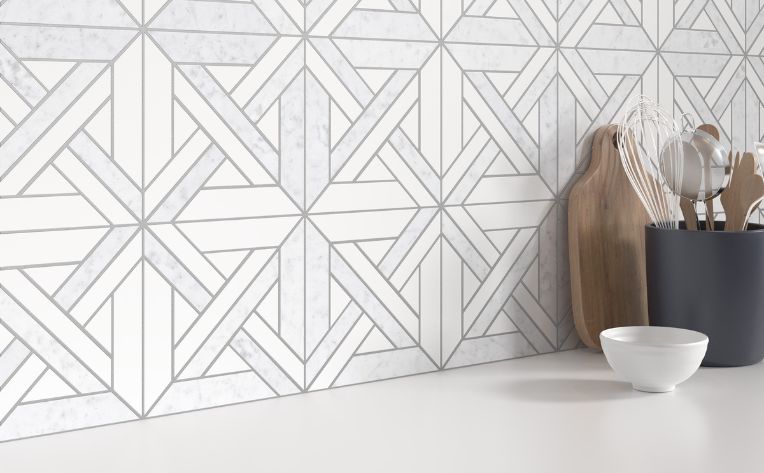 Alluro Silver Castle Polished Mosaic Tile by Emser
If you're more of the bold type and want to include a pattern that reflects that, wall or floor tile is a great choice. Not only do tiles come in many shapes and sizes, but mosaic tile, like this stunning Alluro Silver Castle by Emser Tile, make creating visually dynamic patterns easy. If you're choosing to go with a bolder pattern, doing so in a neutral color palette, like combinations of beige, white and grey, helps to keep your layered patterns from appearing visually overwhelming. Of course, the most important thing in your home design is that it fits your personal taste, so if your style is bold and bright, don't be afraid to get colorful and creative with your tile.
Stunning & Simple Hardwood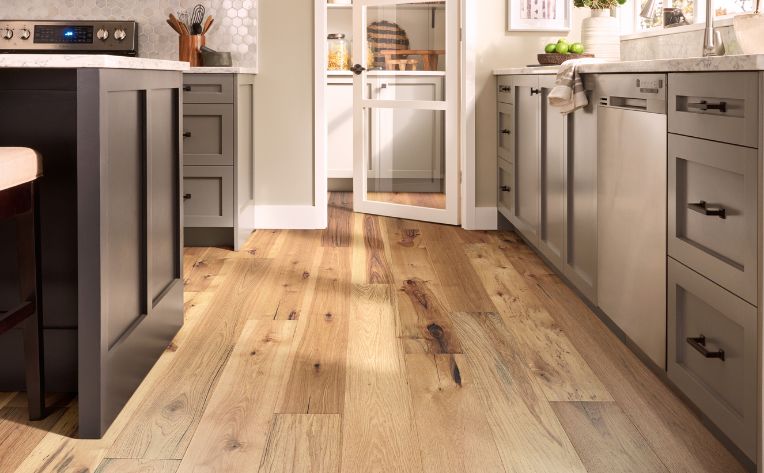 Lanes Prairie Hickory in Court by Aquadura H2O
If you're more on the traditional side of things, but still want to bring the Patterns on Patterns style into your home with subtlety, hardwood flooring, like this Lanes Prairie Hickory by Aquadura H2O, is the perfect choice. This hardwood comes in varying shades of the same tone and uses wide planks to showcase a more obvious pattern. To lean into the Patterns on Patterns trend, choosing a floor that varies in both color and in markings on each hardwood plank will be your best bet, as it makes the subtle pattern offer more visual interest. As if that wasn't enough, this engineered hardwood was created specifically for enhanced stability in high-moisture environments, so you can use it in any room in your home.
Visually Dynamic Vinyl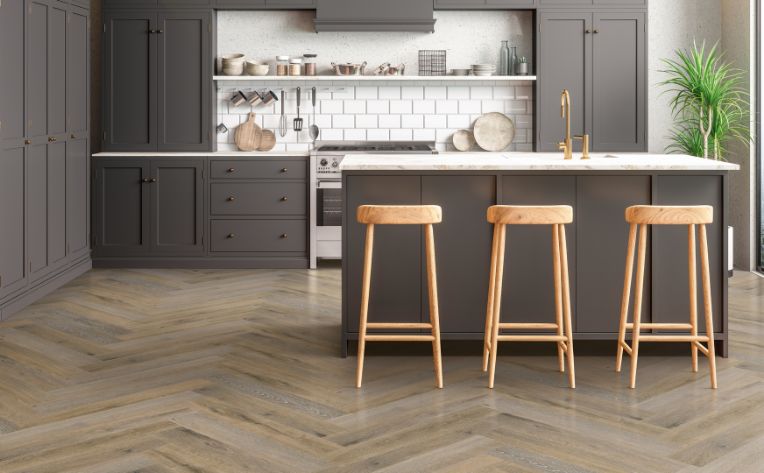 Timber Plus Herringbone by Downs H2O in Charleston Herringbone
If you love the look of hardwood but want something a little more durable and obviously patterned, this Timber Plus Herringbone luxury vinyl flooring by Downs H2O is a great choice. With the modern, elegant herringbone pattern, you create a dynamic floor that compliments your space without straying too far from the look of traditional wood floors. The ultra-realistic wood-toned flooring comes in 3 different shades and is waterproof, as well as scratch and scuff resistant, making it perfect for any space you have in mind.
With so many options to choose from, it can be overwhelming to decide which flooring solution will work the best for your space and Patterns on Patterns design. Of course, we are more than happy to help. Consult the professionals at your local Flooring America for expert flooring advice, and check out our 2022 Style Watch list to read about this year's other top flooring trends and products.